Are you looking for Wheel Alignment for your vehicle?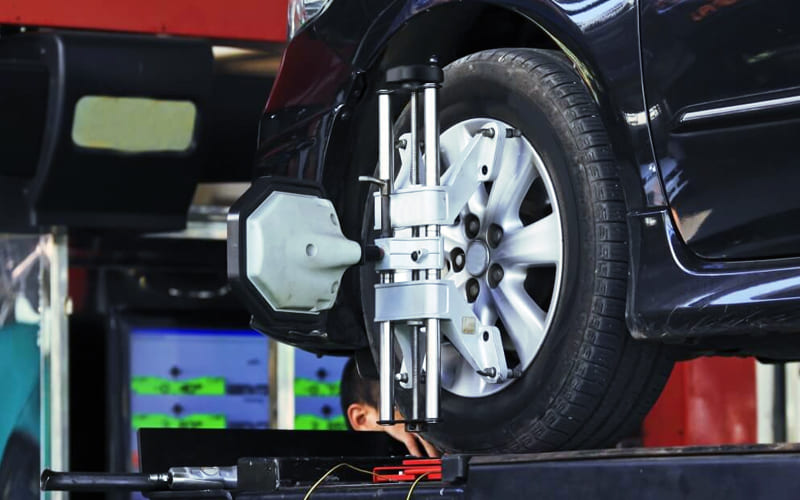 Wheel Balancing
Driving a car on misaligned wheels is dangerous, illegal and will most likely result in an MOT fail. If you notice that your car drifts to a side as soon as your hands are off the steering wheel, opt for professional wheel alignment Newbury.
Wheel alignment is not a DIY task or any layman's work; it's a matter of safety, and the process must be conducted only at a recognised automobile service station. Well, look no further as Benten MOT & Auto Centre is one of the most trusted wheel balancing and alignment garage in Newbury. We also recommend our clients to opt for wheel alignment whenever they change car tyres or wheels.
Apart from that, you can always seek our assistance if you notice the tell-tale signs of wheel misalignment.
How can we help?
At Benten MOT & Auto Centre, we never compromise on quality and client satisfaction. Over the years, our primary objective has always been to optimise the performance of your car. Hence, we use only state-of-the-art wheel alignment technology from a class-leading company to conduct wheel alignment Newbury.
With the help of such advanced tools, our experts can properly check your car's wheel alignment and then adjust the angles accurately if needed. There are three key wheel angles that need adjustment. These are:
Toe: This refers to the wheel angles with respect to each other when viewed from the top.
Camber: The camber angle corresponds to the wheel angles when seen from the front of the vehicle.
Caster: This angle is a measure of the slope of the steering axis.
Apart from these, we also take into account the thrust angle, which is the alignment between the rear axle and the vehicle's centreline.
Simply put, wheel alignment Newbury demands immaculate precision, and at Benten MOT & Auto Centre, we ensure just that.
What are the signs of wheel misalignment?
If you come across any indicator of misaligned car wheels, turn to us for prompt solutions.
Accelerated and uneven tyre wear – This includes feathered wear, edge wear, centre wear and cup wear.
Squealing car tyres.
The vehicle drifts to a side.
Off-centre steering wheel even while driving straight.
Have you been searching for a wheel alignment garage Newbury?
Now that you know we can help, you can effectively end your "wheel alignment garage near me" searches.
Drive down to Benten MOT & Auto Centre and avail unmatched wheel alignment services conducted by our skilled experts. We understand that it is not always possible to detect the early signs of wheel alignment. So, a pre-emptive wheel alignment check annually or every second year is advised. This way, you can improve your car's performance besides prolonging tyre life.
Give us a call if you have any query or to book a service.