Are you looking for All Season Tyres for your vehicle?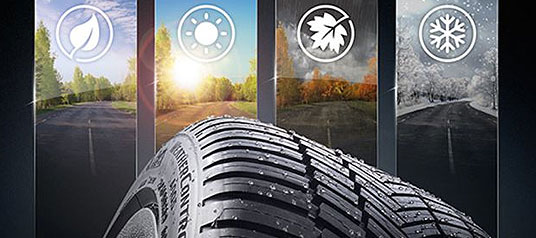 Your choice of car tyres should depend on the vehicle type and your driving behaviour in addition to the climate and road conditions. If appreciable round-the-year performance is what you seek, we recommend you buy all season tyres Newbury.
Benten MOT & Auto Centre is a renowned automobile service station in Newbury, known for its outstanding range of products and multiple service bays. While all our facilities are rated significantly high by our clients, where we stand out is our exceptional range of branded all-season tyres.  
Whether you drive a hatchback, a passenger car or an SUV, rest assured that you will get just the perfect set of all-season tyres at our workshop.
Why invest in all season tyres Newbury?
If you are tired of changing your car tyres Newbury every other season, why don't you fit an ideal set of all-season tyres on your vehicle?
While summer and winter tyres serve their purpose perfectly for drivers living in the more remote areas with more extreme climate and driving many miles every year. All-season tyres offer continued smooth performance throughout the year for those low mileage drivers living in areas with moderate climate all year round.
We have listed below some advantages that an all-season tyre brings along. Go through the information to make an informed purchase decision.
All-season tyres – 3 unbeatable qualities
Tread depth

All-season tyres adapt well to changing weather conditions owing to their tread depth which is intermediate between that of summer and winter tyres. (The minimum recommended tread depth of summer tyres is 3 mm, while that of winter tyres is 4mm)
All-weather tyres have a thinner tread compared to their winter counterparts. This difference allows the former to enhance traction on icy surfaces or even on slippery paths once the snow melts. On the other hand, all season tyres Newbury have a thicker tread depth compared to the summer variant, which allows the former to offer improved traction on dry and wet summer roads.
Hence, it is an ideal choice to buy all season tyres Newbury. And for precisely that, you can turn to the expert team at Benten MOT & Auto Centre who can help you choose the right tyres, depending on your car's make and model.
Why us?
Keeping in mind that every car model has specific requirements and every vehicle owner has a particular preference, our inventory stocks products from various industry giants like Continental, Michelin, Yokohama, Bridgestone, Pirelli, and many more.
Therefore, feel free to order your new all-season tyres online from our website, place us a call or drive down to our garage - Benten MOT & Auto Centre - today. Should you need any help, our experts will also guide you to choose the right set of tyres for your automobile.